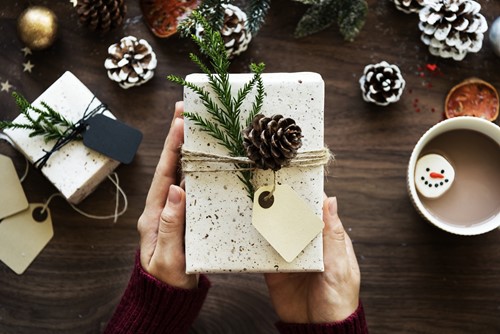 The holiday season is possibly one of the most beautiful seasons of the year. Besides the fact that the year is winding down, there's a simplistic joy that hovers in the air. If you're wondering how to bring the magic of the holidays into your new home, here are a few easy tips to follow:
A Few Basics
The most iconic holiday decoration is the evergreen tree. From fir to spruce to pine, real to synthetic, green to multi-colored, there is no mistaking that it's time for the holidays when you see one. However, you'll want to ensure that you choose a tree that is the right size for your space. Be sure to take into account the placement of the tree and any additions that you may have added to your walls and ceilings such as ceiling fans or crown molding to ensure your tree doesn't get caught or misshapen by the extra features.
If you're keeping decorations to a minimum, for that simplistic highlight, be sure to plan where you want the decorations to go. If you're hanging lights, make sure that you have the right type of lights and a long enough cord to ensure ease of use. A cord that is pulled too taught could result in the lights being pulled from the hooks or pins holding them up.
Adding a few knickknacks? Try using bookshelf ledges, fireplace mantels or window sills to incorporate your figurines, small trees, candle holders or other holiday trinkets to add a little extra flair to your space. Be sure these areas are away from small hands or wagging tails if you have others living in the home with you. Likewise, if it's a solitary affair or your housemates happen to be older, try to avoid placing these items anywhere that they may be kicked or stumbled over.
Entertaining
Entertaining this holiday season? Adding small pieces such as table runners or a nice centerpiece made from holly or other seasonal plants may be just the thing you need. If you fancy a more traditional spread, try using a tablecloth with small pieces of garland around the backs of the chairs to delight your guests.
Having a cozy get-together? A quick run to the craft store could give you just the right amount of oomph. Get a few white coasters, garnish them with small blue and silver tinsel and place them around your coffee table. You could use a small tree or gift wrap a small, empty box and use it as your centerpiece with the coasters around it. Add a few trays for warm drinks and a little added protection for your furniture.
No matter what your style is this holiday season, you'll be able to enjoy it in the comfort of your home with these simple tricks.